The perfect direct drill without compromise
The Mzuri IPASS has been specifically designed to offer high output, efficient low disturbance seeding direct into stubble and cover crops, while retaining its ability to drill into cultivated ground.
Spring loaded front discs cut through crop residue and minimise surface disturbance. The primary coulter clears the seeding zone of residue and band places fertiliser below the seed to promote good root development. Accurate seed depth is maintained across the width of the drill with independent, hydraulically pressurised coulter arms each free to self-steer behind the path created by the leading disc. Suspended by a parallel linkage that ensures the coulter angle is unaffected by depth, the unique seeding arms offer exceptional ground following for uniform emergence over undulating ground.
With a combined volume of 5000 litres, the 60/40 split hopper is pressurised for metering and conveying high application rates accurately at much higher speeds than can be achieved with traditional systems.
Seed and fertiliser are delivered from the large capacity tank via four variable speed electric metering units designed for high output, efficient delivery. Two units control fertiliser and two control seed giving operators the option to shut off half of the width.
The IPASS metering system can accommodate all fertiliser compounds and seed types typical of most arable operations including small OSR and grass seeds to large maize and winter beans.
The Mzuri IPASS is fitted with a commercial 18 tonne rated axle with floatation tyres to accommodate the extra-large hopper for increased productivity and reduced downtime. Hydraulic brakes are supplied as standard with air brakes available as an optional upgrade.
The Mzuri IPASS is available in widths of 4.0m, 4.8m, 6.0m and 8.0m with two row spacing options per model.
Key Features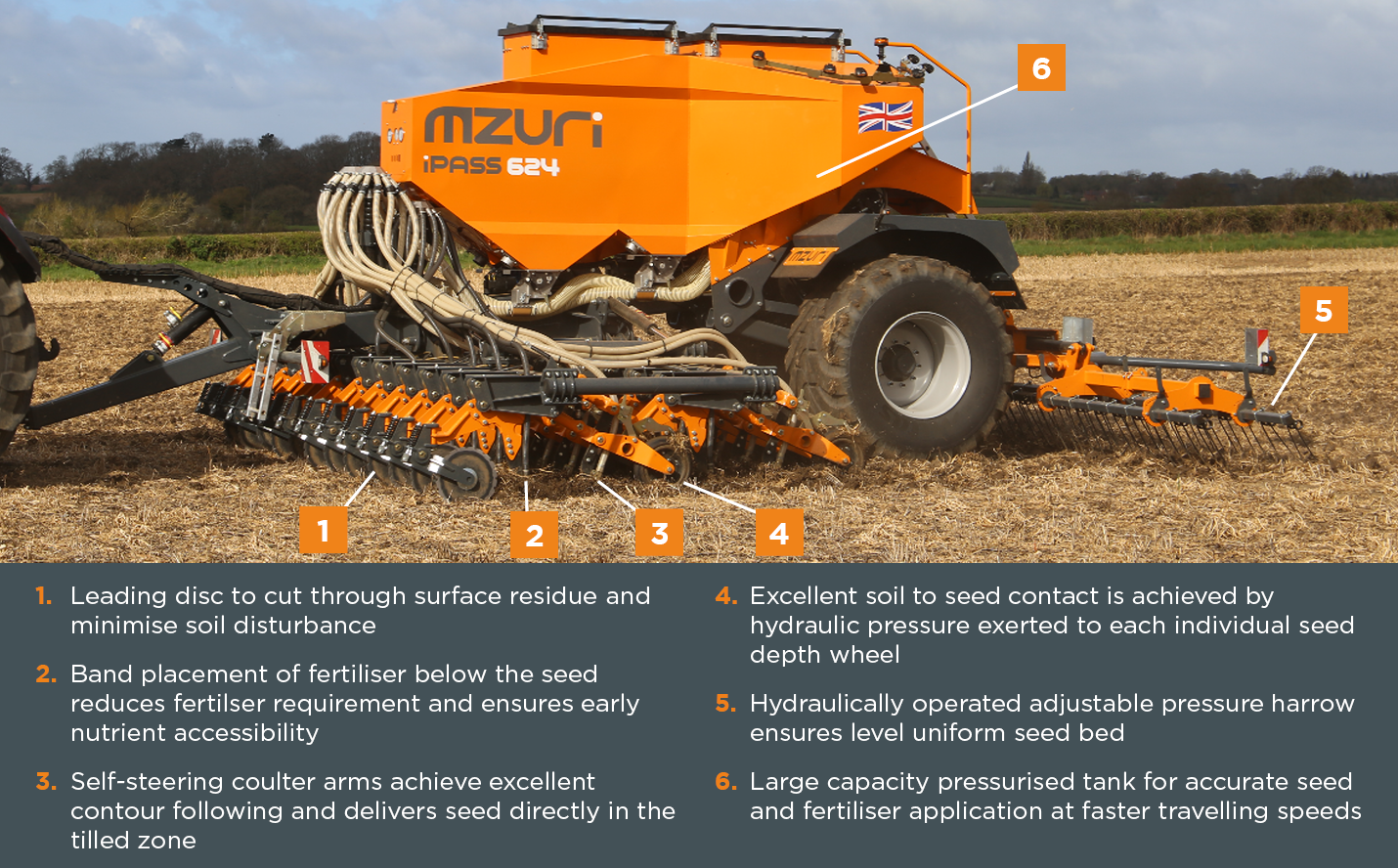 Options
Whilst most features come as standard, the iPass can be tailored to your requirements with several optional preferences
Whether you prefer a more traditional, closer rowed finish to your crops, or a wider spacing that allows for more light interception, the iPass Series offers two row spacings per model – 250mm or 333mm
It is also what forms the basis of our model names, for instance, the iPass 624 is 6.0m wide, with 24 coulters. Or alternatively, for growers requiring wider spacings, the same 6.0m drill is available with 18 coulters, the iPass 618.
iPass 412 –        4.0m wide, 12 Coulters, spaced 333mm apart
iPass 416 –        4.0m wide, 16 Coulters, spaced 250mm apart
iPass  4818 –    4.8m wide, 18 Coulters, spaced 266mm apart
iPass 618 –        6.0m wide, 18 Coulters, spaced 333mm apart
iPass 624 –       6.0m wide, 24 Coulters, spaced 250mm apart
iPass 824 –       8.0m wide, 24 Coulters, spaced 333mm apart
iPass 832 –       8.0m wide, 32 Coulters, spaced 250mm apart